How will NATO protect Afghan voters against rising violence?
Attacks are up 50 percent during the past 10 days. Coalition forces have set up a 'tiered' security plan at polling places.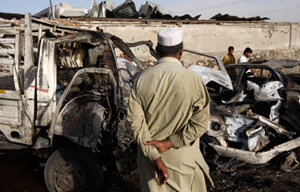 Kevin Frayer/AP
Insurgent attacks are up before the Afghan elections, but NATO officials in Kabul said Tuesday that they do not expect the threat of violence to stop the country from conducting a credible election Thursday.
NATO officials report about 48 attacks across the country per day, up from about 32 per day during the 10 days prior. Taliban and other insurgents have threatened to stage attacks at polling places and kill Afghans with an ink-stained finger – a sign that they voted. Tuesday, the Taliban claimed responsibility for a large suicide bombing outside Kabul.
But NATO expressed confidence Tuesday in the security measures it has enacted. Coalition forces have created a "tiered" system for securing the polls, said Australian Brig. Gen. Damian Cantwell, the chief of the election task force for NATO's International Security Assistance Force in Kabul. The Afghan National Police force will occupy the inner ring of responsibility nearest the polling sites. The Afghan Army will patrol the perimeter of polling sites, as well as the general vicinity. US and allied forces will position themselves close by so they can respond in an emergency.
---