Afghanistan's 'civilian surge' fizzles
War effort requires farmers, engineers, lawyers to share expertise.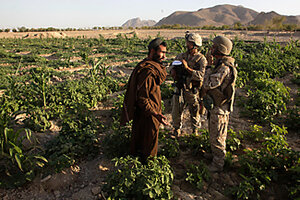 Julie Jacobson/ AP
It is an oft-spoken truth in Washington these days that American success in its wars overseas will come at the hands of those not in uniform as much as those who are. Civilian engineers, lawyers, farmers, and business people are as important to progress as the men and women carrying guns in a modern counterinsurgency, experts agree.
But when it comes to Afghanistan, the problem is that a "civilian surge" probably won't happen. A similar effort faltered two years ago in Iraq, and the bureaucratic landscape hasn't changed much since.
"We don't have any more capacity now than we did," says one former aide on the Pentagon's Joint Staff who didn't want to speak publicly on a politically sensitive matter. In Afghanistan, the former aide predicts, "They will make the same commitment and have the same lack of follow-through."
The concern comes as Congress and the Pentagon await the results of Gen. Stanley McChrystal's assessment of the situation in Afghanistan and a subsequent request for additional troops. General McChrystal, the top commander in Afghanistan, will also likely address the civilian surge issue, but it is unclear what he might recommend given the limitations on civilian resources.
In short, all-civilian branches of the US government aren't designed to deploy people the way the Pentagon can. They must find civilians willing to deploy to war zones, pay to ferry them around the country with armed escorts, and endeavor to put the right people in the right spots – all on tight budgets.
---