US shifts missile defense from Europe to Navy ships
A sea-based defense offers more flexibility against changing threats, including from Iran, Pentagon officials say. It also avoids a debate with Eastern Europe.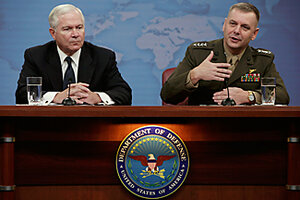 Yuri Gripas / Reuters
President Obama will pursue a ship-based missile defense system as an interim measure to protect Israel and Europe from a short-range Iranian missile threat, as he backs away from a controversial ballistic missile defense system favored by the Bush administration.
Putting a missile defense system on water instead of on land will skirt some of the political backlash in Europe against the ground-based system. It will also address the more pressing threat of shorter-range missiles from Iran, military officials said at the Pentagon Thursday.
For years, the Navy has been developing the Aegis missile defense system – named after the shield of Zeus – as a way to protect aircraft carrier battle groups steaming vulnerably across oceans around the globe. Known as a "phased array" radar, it can look up and over the horizon as far as 250 nautical miles, says a Navy official [Editor's note: The original misstated the wrong number of nautical miles.].
If it picks up something like a missile, the ship can launch a standard missile armed with a transponder in its tail. The transponder allows the ship's system to steer the missile to the target to destroy it. The Navy has also modified 18 of its DDG-51 Arleigh Burke Class destroyers and Ticonderoga Class Cruisers with an advanced standard missile known as the SM-3 that is capable of countering the longer ranges of an intercontinental ballistic missile (ICBM).
---