Obama honors fallen soldier with Medal of Honor
The president presented the military's highest honor Thursday to a soldier who was killed trying to save a comrade in Afghanistan. The Pentagon is looking at why only six Medals of Honor have been awarded after eight years of war.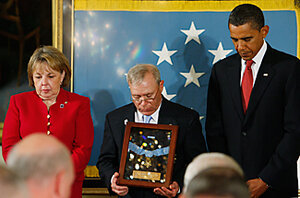 Charles Dharapak / AP
As President Obama awarded his first Medal of Honor Thursday, the Pentagon has undertaken to review a number of other instances of battlefield heroism to determine if any living American service members should be awarded the Medal of Honor.
The effort comes amid some criticism that the wars in Iraq and Afghanistan have produced few recipients of the Medal of Honor, and none of them living. Defense Secretary Robert Gates said Thursday the issue troubles him and that his department is looking at several cases of potential living recipients.
On Thursday, Mr. Obama awarded a Medal of Honor posthumously to Sgt. 1st Class Jared Monti who was killed in Afghanistan in 2006 after diving into a hail of gunfire to save a fallen comrade during an ambush. Monti ran out from behind cover three times before he was shot and later died.
"It was written long ago that 'the bravest are surely those who have the clearest vision of what is before them, glory and danger alike, and yet, notwithstanding, go out to meet it,'" Mr. Obama said at a packed East Room ceremony at the White House.
"Jared Monti saw the danger before him. And he went out to meet it."
---