More troops for Afghanistan: When will Obama decide?
The Pentagon wants Obama to make his choice soon, but if he's leaning against sending more troops, he might play for time to consider his options.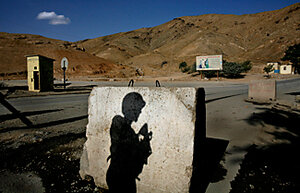 Manish Swarup/AP
Time is not on President Obama's side when it comes to making a decision to send more forces to Afghanistan. But the political dilemma he confronts doesn't lend itself to a choice he will arrive at quickly, either.
Gen. Stanley McChrystal's battlefield assessment, leaked to the press Sunday, has added urgency to the question of whether Mr. Obama should send tens of thousands more troops to Afghanistan. McChrystal said more troops will be needed or the mission will fail.
If Obama listens to his military advisers – most of whom support more troops – he may make a decision quickly.
If he opts against deepening US engagement in Afghanistan, he may play for more time to look at other options.
Either way, the decision will anger Democratic allies in Congress who are clamoring for a withdrawal or Republicans and Pentagon brass, who want a stronger commitment quickly.
"This is when presidents really earn their pay," says Larry Sabato, director the Center for Politics at the University of Virginia in Charlottesville.
Last week, Adm. Mike Mullen, chairman of the Joint Chiefs of Staff, said boldly that more troops would "probably" be needed and that he hopes a decision comes soon.
---