4,000 US troops to exit sooner from Iraq. More ready for Afghanistan?
By next summer, more than half the US troops in Iraq will have come home. Meanwhile, General McChrystal wants up to 40,000 more in Afghanistan.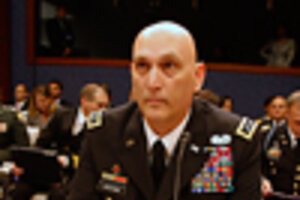 Harry Hamburg/AP
The top US commander in Iraq is accelerating the number of troops he is sending back home even as he remains cautious that violence could threaten January's elections there.
The move comes as the White House begins an intense debate this week over the way ahead for Afghanistan and whether more troops are needed there. The faster redeployment from Iraq could make it easier to send more forces to Afghanistan.
Gen. Ray Odierno, the top commander in Iraq, said Wednesday he will speed the drawdown of American troops by sending home about 4,000 next month, leaving about 120,000 there for the January elections. By next summer, there should be only about 50,000 US troops there.
"That's a bit faster than we originally planned," General Odierno told a House panel on Capitol Hill Wednesday.
The security environment is dictating the faster drawdown. Roadside bomb attacks and other violence continue to fall and are now on par with the summer of 2003, when security in the post-invasion environment was considered relatively good.
The speedier withdrawal comes in part by reducing the number of combat brigades in the western province of Anbar from two to one. Anbar was the seat of the violent Sunni insurgency beginning in 2004 and is now relatively peaceful.
It's not clear that the faster withdrawal from Iraq is connected to the debate over troop levels in Afghanistan. But having more troops at home could make a decision to send more forces to Afghanistan that much more politically palatable.
About 68,000 American troops are in Afghanistan, and President Obama is considering a request for as many as 40,000 more troops from his commander there, Gen. Stanley McChrystal.
---