Is US strategy in Afghanistan working?
The debate over sending more US troops frames a larger clash over counterinsurgency strategy as the new template for war.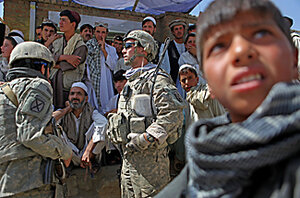 David Goldman/AP
Boston; and Kabul, Afghanistan
Lt. Col. Edward Stein, a US Army Ranger, had a specific task for the Afghan soldiers he was training: Do a security check in Kabul ahead of a speech by President Hamid Karzai to mark Afghan Independence Day.
Not long into their sweep, the soldiers found something ominous: three heavily armed enemy fighters holed up in a bank that was under construction. The soldiers on patrol, members of the Afghan National Army (ANA), didn't storm the building as they might have in the past and settle the problem with the snout of a rifle.
Instead, they called in civilian police to secure the area and take the plotters into custody – just the way they had been trained by Stein and his officers. "They understand they are under civil control," says Stein, who calls the ANA's restraint an important achievement for the military in a nascent democracy like Afghanistan.
Stein's small victory is one example of the counterinsurgency warfare that has taken root in Afghanistan, which puts as much emphasis on institution- building and protecting populations as it does on killing the enemy.
Almost eight years into the war, Afghanistan, and to a lesser extent Iraq, now offer the purest test yet of a fighting doctrine that is rapidly sweeping the US military. While counter-insurgency methods were used by the US Army at various times throughout the 20th century, they have now become the preferred method of conducting warfare in an era of global terrorism and stateless enemies.
---