McChrystal's Afghanistan comments: insightful or sedition?
The US commander in Afghanistan essentially dismissed one White House option as 'short-sighted.' Does civilian control of the military mean McChrystal should keep his mouth shut?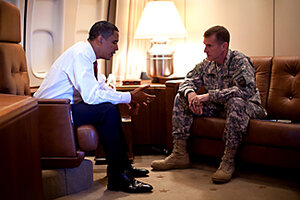 Pete Souza / White House / AP
Gen. Stanley McChrystal has turned up the heat on the White House, lobbying forcefully for more troops for Afghanistan and putting his commander in chief in a tough spot.
Now Washington is asking him to button it, raising questions about just how far the military should go in pressing its view.
On Monday, Defense Secretary Robert Gates said civilian and military advisers should keep their advice private.
"In this process it is imperative that all of us taking part in these deliberation – civilian and military alike – provide our best advice to the president, candidly but privately," Mr. Gates said at a speech before an Army convention in Washington.
On Sunday, National Security Adviser James Jones told CNN's "State of the Union" that "it's better" for military advice to come up through the chain of command.
The administration is deep in an intense debate over the merits of sending as many as 40,000 additional troops to Afghanistan to halt deteriorating security. To some experts, the Obama administration's review is the right thing – having a robust internal debate before making a major decision. To others, President Obama is trying to have it both ways – encouraging the military to speak up when it suits his foreign policy objectives but quieting them when it doesn't.
---