Why South Waziristan offensive won't help US in Afghanistan
The Pakistan Army is going after terrorists who target Pakistan. All the major terrorist networks attacking US forces in Afghanistan operate from other areas of Pakistan.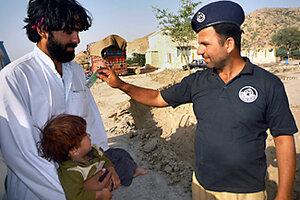 Ishtiaq Mahsud/AP
Pakistan's offensive into South Waziristan is targeting the terrorists who have wreaked havoc in Pakistan during recent weeks and not those attacking American troops in Afghanistan.
None of the three terror groups singled out as the greatest threat to American troops – according to the commander of US forces in Afghanistan – is based in South Waziristan.
This has been a notable feature of Pakistani antiterror efforts from 9/11 to today. The Army and its intelligence resources have focused their attention on terrorists seen to be a threat to the Pakistani state and done much less to curb those focusing on India or Afghanistan.
After 9/11, former Preisdent Pervez Musharraf turned over several top Al Qaeda leaders but refrained from cracking down on the Taliban. Now, one element of the Taliban, known as the Tehreek-i-Taliban, has turned against Pakistan, and the Pakistan Army is focusing on their stronghold in South Waziristan.
The same was true earlier this year, when the Pakistani Army routed terrorists attacking Pakistan from the Swat Valley.
The Quetta Shura Taliban
The greatest threat to US forces in Afghanistan comes from the faction of the Taliban still loyal to supreme leader Mullah Omar, according to Gen. Stanley McChrystal, the top US general in Afghanistan.
---
Follow Stories Like This
Get the Monitor stories you care about delivered to your inbox.