Afghanistan election is over. Will Obama make troop choice soon?
The Afghanistan election runoff has been scrubbed, and Hamid Karzai has been reelected, removing one major complication for Obama. But the troop decision could still be weeks away.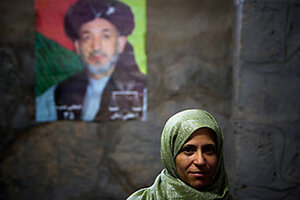 Morteza Nikoubazl/ Reuters
President Hamid Karzai's victory in the Afghanistan election, declared Monday, adds urgency to the Obama administration's ongoing review of American strategy and troop levels there.
The White House today declared Mr. Karzai the legitimate leader of the Afghan government after his opponent, Abdullah Abdullah, withdrew from a planned runoff election. The development removes a significant obstacle that had complicated the administration's path forward. The White House had said that it couldn't make a final decision on its strategy in Afghanistan until the political crisis there was resolved.
But Dr. Abdullah's withdrawal also forces the US to decide whether Karzai is a legitimate partner. The determination will be crucial, since the counterinsurgency strategy favored by top generals requires a capable Afghan government as a partner.
"We have a greater sense of the lay of the land, and now we have to make critical decisions about how to make this partnership work – and work better than it has in the past," says Alexander Thier, director of the Center for Conflict Analysis and Prevention at the US Institute of Peace in Washington, in an interview from Pakistan where he is working.
---