Veterans Day highlights new efforts to help homeless vets
This Veterans Day – like all days – military veterans are twice as likely to be homeless as non-vets. New efforts by the Obama administration and Congress would provide immediate help while treating the causes of homelessness among vets.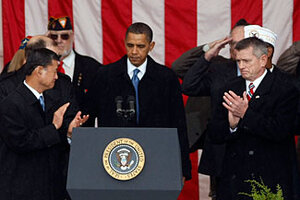 Gerald Herbert/AP
As the nation pauses for Veterans Day, the Obama administration is trying to accelerate support for military veterans who are homeless or jobless.
An estimated 131,000 former members of the armed services are homeless – with vets twice as likely as non-vets to be out on the streets. With high unemployment a nationwide problem, vets face higher-than-average jobless rates as well.
New initiatives by President Obama, by Veterans Affairs (VA) Secretary Eric Shinseki, and by members of Congress focus on improving living standards for veterans:
• On Nov. 3, Sec. Shinseki (a retired Army general wounded in Vietnam) convened a national summit aimed at ending homelessness among vets within five years. The plan expands efforts to help those who are homeless, but also to increase prevention efforts.
• Several bills in Congress, discussed at a hearing Tuesday, aim to support Shinseki's goal.
• Mr. Obama signed an executive order Monday establishing a new interagency Council on Veterans Employment to encourage federal hiring of former service members, "consistent with merit system principles and veterans' preferences prescribed by law." The council includes a new effort to track results among federal agencies.
---