Afghanistan troop surge could be a slow rollout
Any surge of US troops to Afghanistan is likely to be tougher than it was in Iraq, because of the dearth of good roads and airfields, say defense officials.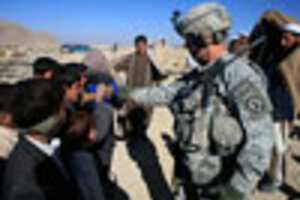 Dario Lopez-Mills/AP
When it comes to deploying additional forces to Afghanistan, the Pentagon confronts an infrastructural problem summed up by one senior military official: "Iraq is stuck in 1950, Afghanistan is stuck in 1310."
President Obama's decision on deploying more troops to Afghanistan is still a week or so away. But operating under the assumption that more forces may be headed there in the coming months, Pentagon planners have been trying to figure out how fast they can get troops and equipment on the ground.
The bottom line: Afghanistan's terrible infrastructure means that any surge of troops there could be more like a slow roll, compared with Iraq.
"I anticipate that as soon as the president makes a decision, we can probably begin flowing some forces pretty quickly after that," Mr. Gates told reporters Thursday. "But it is a bigger challenge than certainly was the case in Iraq."
After President Bush decided to surge forces into Iraq, it took roughly five months for about 30,000 forces to hit the ground – about a brigade per month plus supporting forces.
Afghanistan, however, is a landlocked country with few serviceable roads, making air transport of personnel and equipment the only practical choice. But the country only has two airfields – in Kandahar in the south and Bagram in the northeast. That limits the rate at which forces and their equipment can be deployed.
Michael O'Hanlon, a senior fellow at the Brookings Institution, a think tank in Washington, saw these limits first hand last week. He sat in a C-17 military jet on the Kandahar airfield tarmac for an hour and a half before the jet could be off-loaded. And that was at 4 a.m.
---