Obama's new Afghanistan plan may be much like old one
President Obama is expected to announce next week his decision on troop numbers and strategy for the war in Afghanistan. It won't be too different from the policy laid out in March, say experts.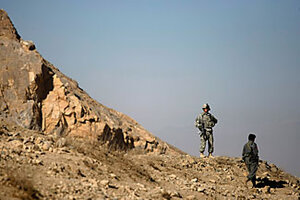 Dario Lopez-Mills/AP
The Afghanistan war plan President Obama will announce next week won't stray far from the strategy he laid out eight months ago, say experts.
After nine meetings with his war council – and reports of vigorous disagreement within the administration – Mr. Obama seems likely to stick to the strategy he announced in March, perhaps incorporating elements from other proposals.
His top general in Afghanistan favors a "counterinsurgency" approach that would entail a massive increase in the number of US troops there. Others such as Vice President Biden reportedly prefer a "counter-terrorism" policy that would emphasize targeted strikes on terrorist hideouts.
"There will be something in there for everyone," says one official who is close to the deliberations. "Nobody got everything, but everybody got something."
Obama indicated Tuesday that he was not shying away from the fight in Afghanistan. "It is in our strategic interest, in our national security interest, to make sure that Al Qaeda and its extremist allies cannot operate effectively in those areas," Obama said at the White House. "We are going to dismantle and degrade their capabilities and ultimately dismantle and destroy their networks."
Obama's plan is likely to include:
•More forces. Obama is expected to announce an increase of between 30,000 and 40,000 additional forces for Afghanistan on top of the 68,000 already there. Those forces will conduct combat missions as well as training missions to increase the size of the Afghan national security forces. The additional forces, depending on their number, will be used to shore up sparsely-deployed forces around the country or concentrated on populated areas.
---