Afghanistan surge: What can it accomplish in 18 months?
The goal of the Afghanistan surge is limited: to break the Taliban's momentum by July 2011. Plenty of US troops will remain in Afghanistan after that to continue work on longer-term goals, said Defense Secretary Robert Gates Sunday.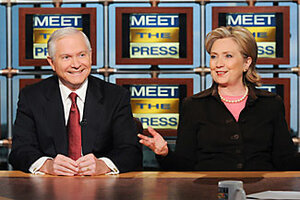 William B. Plowman/NBC/Reuters
Defense Secretary Robert Gates on Sunday sought to address a fundamental misunderstanding of President Obama's Afghanistan timeline.
In all likelihood, the Taliban will not be routed nor will President Hamid Karzai's government be corruption-free by the time the US begins drawing down troops in July 2011. The goal of the surge is not to solve Afghanistan's problems in 18 months.
Instead, the goal is to use the fist of a large force rapidly deployed to stagger the Taliban, breaking the Taliban's momentum and leaving an easier job for Afghan security forces going forward.
Speaking on two talk shows, Secretary Gates stressed that the off ramp that begins 18 months from now has no definitive end point. In other words, the US will begin to transfer some authority to the Afghans then, but how long that process takes will be the determination of generals in Afghanistan.
"I don't consider this an exit strategy," said Gates on ABC's "This Week." "It will be the same kind of gradual conditions-based transition province by province, district by district, that we saw in Iraq."
Reports suggest that Gates's support for Mr. Obama's plan was contingent on this point. Obama was insistent upon some explicit timeline in order to pressure Afghan officials to get their act together. But Gates demanded that the July 2011 date be merely a starting point, according to The New York Times.
On NBC's "Meet the Press," Gates said the timeline accomplishes both these aims, "giving the Afghans a sense of urgency" while leaving the back end of the commitment open.
---