Drone aircraft in a stepped-up war in Afghanistan and Pakistan
It will be months before the 30,000 new troops will have gone to war in Afghanistan. But President Obama already has increased attacks by pilotless Predator drone aircraft against Taliban and Al Qaeda militants in Afghanistan and Pakistan's tribal areas.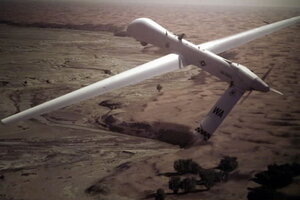 AP Photo/Department of Defense/file
It will take some time for 30,000 more US troops to deploy to Afghanistan, as called for by President Obama's new Afghan strategy. Already in operation, however, may be another part of the plan: an increase in covert strikes against militant targets by missiles fired from unmanned Predator drones.
Evidence of this surfaced Tuesday, with reports that the US launched a drone attack in northwest Pakistan that may have killed a key member of Al Qaeda.
"Nothing has been definitively confirmed, but it's possible that a senior Al Qaeda figure has died," a US official told the Reuters news service.
The US government has not officially talked about the strike, nor is it likely to. The drone program is a covert effort run by the CIA. Neither Osama bin Laden nor Ayman al-Zawahiri was the likely target, however, according to wire service reports.
The Predator can loiter over a target for hours
The RQ-1 Predator drone is the primary unmanned aerial vehicle used for offensive operations in Afghanistan and the adjoining Pakistani tribal areas. Its endurance is such that it can fly 400 nautical miles to a target, loiter overhead for 14 hours, then return.
---