Afghanistan troops timeline gets its first revision
A senior American officer said Monday that the entire 30,000-strong Afghanistan troops surge will not be in country until November. The original plan was to send troops to Afghanistan more quickly to bring them back quickly.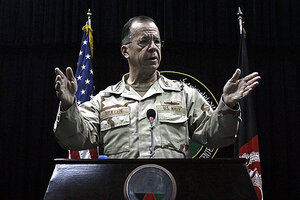 Omar Sobhani/Reuters
The full complement of American forces deploying to Afghanistan under President Obama's new strategy will not arrive until November, a top commander here said.
The new, more gradual timeline means it will take longer for Mr. Obama's surge of forces to arrive, thus potentially blunting their impact in the surge's initial phases and leading to a slower drawdown of forces after July 2011. It comes as the military confronts the realities of deploying such a large force into a landlocked country with little in the way of infrastructure.
Originally, the Obama administration had hoped to accelerate the deployment of the 30,000 additional forces in its get-in-and-get-out approach. The idea was to deploy new forces quickly and then begin a gradual withdrawal in July 2011. Senior administration officials said Dec. 1, the day Obama announced his new strategy, that it would take six months for all 30,000 troops to arrive.
But in subsequent testimony on Capitol Hill, Adm. Mike Mullen, chairman of the Joint Chiefs of Staff, said the bulk of the forces would deploy in the summer and "finish out by fall." But the commander for day-to-day operations here said Monday it will probably take a bit longer.
---