Yemen crucial to Obama's vow to defeat Al Qaeda
Due to security threats, the US closed its embassy in Yemen Sunday. The decision points to the strength of Al Qaeda in Yemen – and why the US is stepping up efforts there.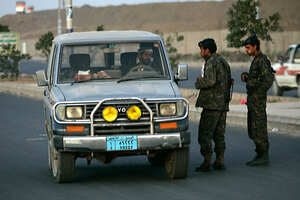 Khaled Abdullah/Reuters
The US embassy in Yemen has closed one day after President Obama confirmed that Umar Farouk Abdulmutallab, the failed Christmas Day bomber of Northwest Flight 253, was trained and equipped in Yemen.
The move points to the threat posed by Al Qaeda in Yemen. Already, Al Qaeda has struck the US embassy in Yemen once.
In 2008, it laid siege to the embassy, attacking it with mortars rounds and two car bombs – one detonated outside the gates and the second rammed into the embassy's ramparts. The embassy was not breached, though 13 Yemenis and six terrorists were killed.
For Mr. Obama, though, the question of Al Qaeda in Yemen goes much deeper than Sunday's decision to shutter the embassy temporarily. More even than Afghanistan, perhaps, Yemen goes to the core of his antiterrorism philosophy.
Defeating Al Qaeda
In Obama's months-long reassessment of the war in Afghanistan, one constant remained: the goal he laid out shortly after taking office. "So I want the American people to understand that we have a clear and focused goal to disrupt, dismantle, and defeat Al Qaeda," he said in announcing his original Afghanistan strategy in March.
Of all the places most often linked with Al Qaeda, Yemen is, in many respects, the place where Obama's efforts might bear the most fruit.
---