Dover facility 'befits the grief' of families of fallen troops
The Pentagon unveiled a new $1.6 million facility designed to offer comfort to families who come to Dover Air Force Base to grieve for the loss of loved ones in foreign wars.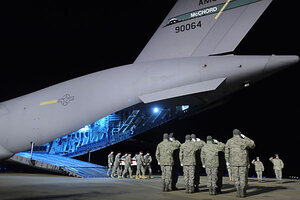 Steve Ruark/AP
Dover Air Force Base, Del.
For years, grieving military families here to witness the transfer of their loved ones' remains from war back to American soil were offered a coldly-lit room and plastic chairs as a place to mourn. Then military spouses realized the military had to do better.
Today, the Air Force has a new, $1.6 million facility with leather couches, overstuffed pillows, and soft lighting to give military families a comfortable place to go as they await the arrival of their deceased. The renovated building, unveiled Wednesday with VIPs including Vice President Joe Biden's wife, Jill, in attendance, reflects how the military is still trying to meet the needs of families after eight years of war.
It seems like a simple thing – a nice place for families to grieve. But in a military that must balance hundreds of priorities, the "Center for the Families of the Fallen" was an initiative that took time to realize. Gen. Norton "Norty" Schwartz, the Air Force Chief of Staff, said the military had to have a place to offer families that "befits their grief."
"Perhaps someday, a world without armed conflict will not longer elude us, but until then, this nation requires and values the efforts of its service men and women, and the love and support of their family members who sustain their efforts," he said.
Secretary Gates steps in
It was less than a year ago when Defense Secretary Robert Gates changed a long-controversial policy that effectively barred families and the media from witnessing the return of caskets containing the war's deceased. All deceased troops are brought to Dover before they are returned to their families.
Families were technically allowed to visit Dover to see their loved ones' remains returned, but they were not encouraged to participate in the ceremony. Media were completely barred.
---