Haiti earthquake: US military involvement could last six months
Three to six months after the Haiti earthquake, the US military may transition its support operations to other agencies and relief organizations.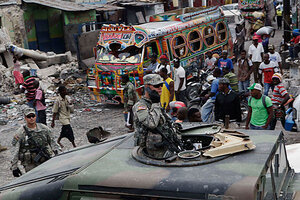 Ramon Espinosa/AP
The head of the Defense Department's logistics agency says he expects his agency to be engaged intensively in Haiti for quite a while.
Vice Adm. Alan Thompson, director of the Defense Logistics Agency, said that based on the informal guidance he's received, his group should prepare to provide "intensive support" for Haitian recovery operations for up to six months.
"My sense is the three- to six-month time period would be when there would be efforts to try to transition some of the support," he told defense reporters in Washington on Tuesday. But, he added, "That's a personal opinion, and I'm not aware of any real detailed decisions on this at this point."
Relief operations in Haiti, under the purview of the US Agency for International Development (USAID), have moved into full swing. The airport in Port-au-Prince, which offered limited capacity in the days after the Jan. 12 earthquake, has now seen its pace increase considerably, with as many as 180 flights taking place in one day.
---