Afghanistan summit: Why is the US backing talks with the Taliban?
Heading into this week's summit of Afghan allies in London, the top US general in Afghanistan said he supported President Hamid Karzai's plan to reach out to the Taliban.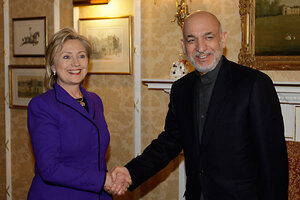 Lefteris Pitarakis/AP
Only the first few thousand "surge" forces have arrived in Afghanistan as part of the effort to tame the Taliban's resurgence there. But the top US commander, Gen. Stanley McChrystal, is already talking about a negotiated peace with the enemy – a move that would seem counterintuitive so early in the new counterinsurgency campaign.
But McChrystal's recent, vocal support of reconciliation and reintegration – welcoming top and low-level Taliban fighters to lay down their arms to join the Afghan political process – may be just good battlefield politics. McChyrstal, considered a sophisticated operator, is supporting President Hamid Karzai on the eve of a summit in London on Afghan security.
"As a soldier, my personal feeling is that there's been enough fighting," said McChrystal in an interview with the Financial Times this week. "What I think we do is try to shape conditions which allow people to come to a truly equitable solution to how the Afghan people are governed."
Also this week, the United Nations Security Council lifted sanctions against five top Taliban leaders. The move opens the door for the negotiated settlement backed by Mr. Karzai.
---