QDR: Pentagon revises its long-held two-war doctrine
A key Pentagon strategic document released Monday, called the Quadrennial Defense Review, increases the emphasis on a new range of threats, including cybersecurity. It departs from the military's traditional goal of being able to fight two conventional wars at once.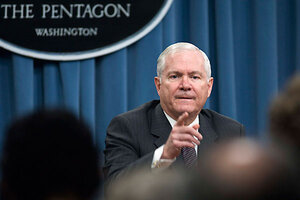 Kevin Wolf / AP
Defense Secretary Robert Gates's efforts to focus the Defense Department on the wars at hand – not the ones being waged in the minds of futurists fixated on China or Russia – is the guiding principle behind a new strategic document that sets the Pentagon's priorities for the next several years.
Unlike last year, when Mr. Gates made cuts to programs that were at odds with Congress, this year's changes are less dramatic and more thematic.
That includes the Quadrennial Defense Review, the strategic document released Monday. In the past, the QDR has demanded that the US be prepared to confront two major, conventional wars at one time. But noting that the US is already engaged in two wars, Gates said Monday that it's time to rethink the "construct" of national security.
"We have learned through painful experience that the wars we fight are seldom the wars that we planned," Gates told reporters at the Pentagon.
The challenges ahead
The new QDR outlines that the Pentagon must be prepared to fight a "much broader range of security challenges," including high-tech ones in cyberspace, as well as the ones in which the US is currently engaged.
The language of the QDR document is vague and subject to interpretation. But this year's QDR gives Gates, a former CIA chief who arrived at the Pentagon in late 2006, an opportunity to cement his vision on a building that resists fresh ideas from the outside.
---