Capture of Taliban No. 2 bolsters US efforts in Afghanistan
The capture of Mullah Abdul Ghani Baradar, who was reportedly picked up in Pakistan, comes amid the largest US offensive against the Taliban insurgency since 2001.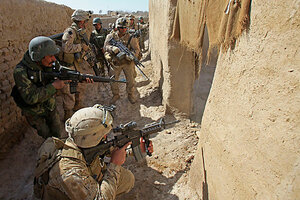 Goran Tomasevic/Reuters
The recent capture of the Taliban's No. 2 official could bolster American efforts in its ongoing offensive in southern Afghanistan, experts say.
US and Pakistani officials have reportedly captured Mullah Abdul Ghani Baradar, the second in command in what is known as the Afghanistan Taliban.
Mr. Baradar has long been the top commander in the insurgency in Afghanistan that targets US, allied, and Afghan troops. His removal comes as the US mounts its largest offensive against the insurgency since 2001 in southern Afghanistan's Marjah district in Helmand Province.
Baradar was picked up in recent days by the Pakistani intelligence service working alongside the CIA and other American officials last week, according to a report in The New York Times Tuesday.
Baradar has long been the head of the so-called Quetta Shura, the leadership council of the Taliban that fights in Afghanistan. The Shura council, however, is based in Quetta, Pakistan, and Baradar was apparently apprehended in Karachi. Pentagon officials would not comment on the newspaper report.
---