Afghanistan war challenge: civilian deaths from NATO airstrike
Gen. Stanley McChrystal's nuanced Afghanistan war plan took a hit on Sunday when a convoy of suspected insurgents targeted by a coalition airstrike turned out to be civilians.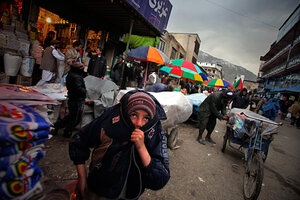 Altaf Qadri/AP
A NATO airstrike that mistakenly killed Afghan civilians on Sunday reinforces the challenge facing the top commander there as he attempts to demonstrate that his new Afghanistan war strategy can work.
NATO confirmed Monday that an airstrike targeting three mini-buses filled with suspected insurgents in Uruzgan province in southern Afghanistan killed what appeared to be innocent civilians. News reports estimated that as many as 27 died. It was not clear if any of those killed were insurgents, or to what extent the Taliban may have hidden among a group of civilians to protect themselves – a common insurgent practice.
Still, Gen. Stanley McChrystal personally apologized for the incident, saying killing or injuring civilians undermines the Afghan population's confidence in the overall mission, and he pledged to do more to prevent further loss of life.
The incident was the third in Afghanistan since the US began an aggressive offensive in the Marjah district of nearby Helmand province. In a conflict in which public perception is key, the incident raises concerns that Gen. McChrystal's approach may be harder and take longer to achieve. Each instance of civilian casualties, and the public scrutiny within Afghanistan that it causes, is a temporary setback in McChrystal's attempt to persuade the Afghan population that coalition forces are there to protect them, not hurt them.
---