Navy to allow women to serve aboard submarines
A ban on female sailors aboard submarines is one of the last barriers preventing women from serving equally alongside men in the military. The Navy notified Congress on Monday of its intent to drop the ban.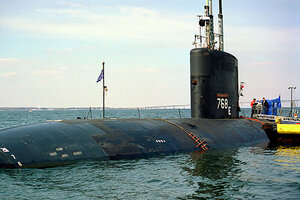 Don S. Montgomery/U.S. Navy/Reuters/File
The Navy will soon permit female sailors to serve aboard submarines, removing one of the last barriers to women in the military serving equally alongside men.
The Pentagon Monday notified Congress of its intent to make the change, which would allow select sailors of the Navy's nearly 50,000 women to enter the shadowy and tradition-bound submariner culture. After the 30-day notification period required by law, the Navy can start integrating crews for the service's 70-odd submarines.
The integration is likely to be phased in, with the first women serving on some subs perhaps within a year or so. Women might serve first on some of the larger submarines that are easier to reconfigure to accommodate them. Before women are assigned to a submarine, they must receive nuclear training, which can take up to a year, say military officials. The Navy isn't speaking about the plan until it planners determine how it will be implemented.
Women's military roles have gradually expanded. Until the early 1990s, women could not fly combat aircraft or serve on combatant ships. They are still not allowed to serve in ground combat roles, technically speaking, but do take part in dangerous missions in Iraq and Afghanistan because of the nature of combat in an insurgency in which there are no distinct front lines. Lawmakers' efforts in recent years to limit women's roles were rebuffed by the Army, which told Congress it cannot afford to exclude women from serving in various capacities, say experts.
---