As Marjah offensive ends, a crucial test for peace in Afghanistan
The coalition's Marjah offensive against the Taliban in Helmand Province, Afghanistan, has made gains. But to succeed, Afghanistan, the US, and aid agencies must quickly move in to build up the area's security, government, and infrastructure, showing fence-sitters the benefits of peace.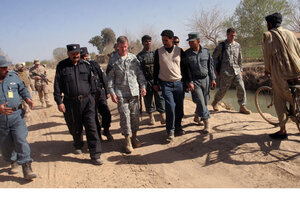 NEWSCOM
As the US Marjah offensive in Afghanistan, winds down, the next challenge will be to maintain the newfound security of the area and to begin to reintegrate former Taliban fighters into Afghan society.
It has been more than two weeks since American Marines, along with Afghan and other security forces, began what has been billed as the largest offensive against the Taliban since the US invasion of the country in October 2001. After initial exuberance over early success, military officials attempted to manage expectations, saying that there are hard days ahead.
This is a critical period, say experts. The Afghan government – with the US military and development officials closely behind – must quickly demonstrate what they can do for the population, or the success of the combat phase will quickly fade, experts say.
No one knows how many Taliban fought in this region of Helmand, and how many may have fled prior to the assault. So it's unclear how many Taliban fighters might now be willing to get on board with the Afghan government.
---
Follow Stories Like This
Get the Monitor stories you care about delivered to your inbox.