Afghanistan war: Fight for Kandahar won't be like fight for Marjah
In the next stage in the Afghanistan war, coalition forces are expected to build up gradually on the outskirts of the Taliban stronghold of Kandahar, perhaps for months. That strategy departs from the one executed in the Marjah offensive, in which troops entered quickly.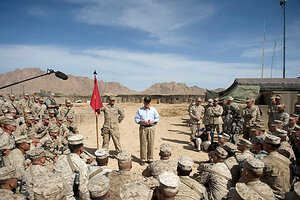 Jim Watson/Reuters
The operation that American and coalition forces are planning for Kandahar in southern Afghanistan won't look like D-Day, the top commander there said Tuesday.
Fresh off a recent success, so far, in Helmand Province, American military planners are thinking ahead to the next phase of challenging the Taliban in southern Afghanistan: Kandahar. But the fight for Kandahar – described as the New York City of Afghanistan for its cultural, political, and economic significance – is expected to be more measured than the operation in Marjah in Helmand, which was a precision strike that began with the insertion of hundreds of US marines by helicopter.
"There won't be a D-Day that is climactic," said Gen. Stanley McChrystal, the top commander there told reporters in Kabul, during a trip in which he escorted Defense Secretary Robert Gates. "It will be a rising tide of security when it comes."
---