Iraq and Afghanistan: America's invisible wars
After seven years in Iraq and nine in Afghanistan, residents of York, Pa., talk about how the wars have become like a screen saver: always there but rarely acknowledged.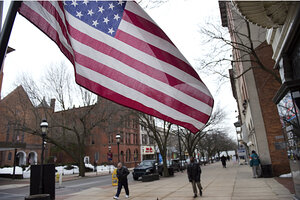 Mary Knox Merrill/Staff
Standing in Continental Square in this southern Pennsylvania town in the early 1940s, it wouldn't have taken long to divine the subject foremost in the minds of the citizenry.
You would have seen young men in olive-drab uniforms trudging up from the train station, looking for something to do to kill the few hours of their layover. Many of them would have dropped by the USO post in the square, where they would have been directed to an old schoolhouse over on Beaver Street to grab a bite to eat, play board games, and, if they stayed long enough, enjoy a dance with a pretty local girl.
Elsewhere in the square, you would have spied residents standing in line at a small booth to buy US war bonds. In the windows of all the shops and the big department stores – Bear's, Wiest's, and Bon-Ton – you would have seen large posters drumming up support for the war effort or darkly warning about staying on the lookout for Nazi spies.
IN PICTURES: York, Pa., reflects on the wars
If you had hung around long enough, no doubt you would have been swept up by community campaigns to collect scrap metal or tires for the defense industry. You would have heard boastful references to "the York Plan," a civic initiative that brought local manufacturers together to win huge armament contracts. And certainly there would have been some grumbling as well – about gas rationing and the dearth of ladies' stockings, a consequence of silk being siphoned off to make parachutes.
World War II, in other words, was inescapably Topic A – and probably every other letter of the alphabet as well – in York as it was in every other small town or big city in America in those days.
---