Robert Gates wants 'more humane' approach to 'don't ask, don't tell'
The Obama administration is considering whether to try to repeal 'don't ask, don't tell.' Until then, Defense Secretary Robert Gates has the authority to interpret how the law applies in the US military.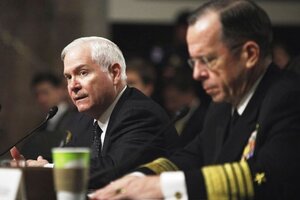 Manuel Balce Ceneta/AP
Defense Secretary Robert Gates will soon announce a "more humane" policy expected to result in more flexible legal options for homosexual men or women serving in the US military.
Mr. Gates, who is expected to brief reporters on the matter later this week, called for a review of the current "don't ask, don't tell" policy to determine if there was a better way to handle service members identified as gay or lesbian by a third party.
Gates asked Pentagon lawyers to look at the issue after cases came to his attention in which some service members who had been "outted" were being forced from military service despite the fact that they had not violated the spirit of the law.
The review comes as the Obama administration is looking more broadly at don't ask, don't tell. Since 1993, the law has prevented homosexuals from serving openly.
Repeal at least a year off
Repeal of that law, which would be made by Congress, appears to be at least a year away. But Gates has the authority to tweak the legal interpretation of the law in how it affects service members in specific cases.
"Hopefully, you'll be seeing him later this week and can address the changes that he is going to be making to the department's policy to provide for a more humane enforcement and application of the law," said Pentagon press secretary Geoff Morrell.
Any change Gates would announce this week could give more nuance to a policy which in the past has been interpreted in black-or-white terms. In some cases, a service member who acknowledged that they are homosexual, regardless of the circumstances, could be discharged.
Under a change in the policy, the military might have to prove that someone's sexual orientation had an effect on morale or "military readiness."
---