Pentagon eases 'don't ask, don't tell' law
The Pentagon announced changes Thursday to how the 'don't ask, don't tell' law approaches the investigation of homosexual conduct.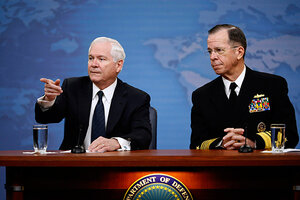 Hyungwon Kang/REUTERS
Defense Secretary Robert Gates on Thursday relaxed the "don't ask, don't tell" law, raising the bar on how homosexual conduct can be investigated within the military.
"I believe these changes represent an important improvement in the way the current law is put into practice, above all by providing a greater measure of common sense and common decency to a process for handling what are difficult and complex issues for all involved," Secretary Gates said in announcing the changes at the Pentagon.
The changes, in effect immediately, raise the level of rank required to initiate a fact-finding inquiry against a service member. Also, the officer who conducts the investigation must now be a lieutenant colonel, commander, or above. Under the old regulations, any commanding officer could initiate an investigation or conduct one.
The changes also raise the bar on what constitutes the "credible information" that has been used to separate an individual for homosexual conduct. And the changes require more scrutiny of the credibility of individuals whose information would be used to open an investigation against an individual service member. That requirement is aimed at better preventing third-party individuals with a vendetta from essentially tattling on another service member to get them drummed out of the military.
In addition, the Pentagon changed the sources of information admissible during an investigation. From now on, information provided to lawyers, clergy, psychotherapists, and other medical professionals is no longer accepted.
Gay-rights advocates cheered the move.
"We are especially pleased that the undue burden gay and lesbian troops carry around with them every day has been lessened," said Aubrey Sarvis, executive director of the Servicemembers Legal Defense Network. "At least a gay service member can divulge his or her sexuality to a physician or therapist without fear of getting fired." The group had proposed many of the changes to the Pentagon.
---