Obama puts new limits on US use of nuclear weapons
The Pentagon's 'Nuclear Posture Review' narrows the list of potential targets, reflecting new threats like global terrorism. But Obama reserves the US right to strike first with nuclear weapons.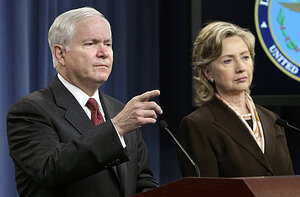 Yuri Gripas/REUTERS
The Obama administration began its journey toward a world free of nuclear weapons by declaring that it would rely on such weapons less and conventional weapons more.
But in making what amounted to minor changes to its nuclear deterrence policy, it settled on the political middle ground, angering the left for what the administration didn't do, and the right for what it did.
The Pentagon Tuesday released the Nuclear Posture Review (NPR), a nearly 70-page, unclassified position paper that narrows the number of targets against which the US could use a nuclear weapon while maintaining the long-held right to launch first.
The NPR dictates that the US will not use a nuclear weapon against a non-nuclear state. This is a change from when the US maintained the right to use a nuclear weapon against any state attacking it with a weapon of mass destruction – including chemical or biological weapons – a restrictive move that helps put the US on the road to a nuclear weapon-free world.
But that pledge also includes a major caveat that gives the new policy plenty of wiggle room: the US still reserves the right to use a nuclear weapon against any country if it is not in compliance with "nonproliferation obligations" under international agreement, which means an attack against a country such as Iran.
---