Michelle Obama, at Pentagon, honors armed forces and their families
First lady Michelle Obama has made a point of calling attention to the sacrifices of the armed forces and their families. She was at the Pentagon Friday to thank them. Should she do more?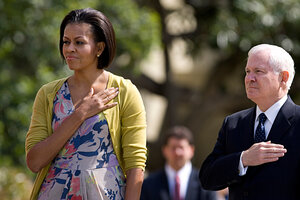 Manuel Balce Ceneta/AP
Michelle Obama is using the first lady's bully pulpit to highlight the needs and concerns of military families, even if a major initiative has yet to emerge.
Mrs. Obama appeared at the Pentagon Friday to honor members of the military and their families in what her office billed as her "16th visit" to the Defense Department – but her first across the river from the White House to the Pentagon itself.
"Our country has never asked so much, for so long, of our all-volunteer force," Obama told a crowd of service members and their families. "The beauty is you never complain, at least not out loud," she said to laughter. "You always step up and you always come through."
In her first year as first lady, Obama put military families at the top of her priority list. With Jill Biden, whose son, Beau, is a member of the Delaware National Guard, she has tried to draw attention to the plight of families who have never in modern times had to endure a war as long as the ones in Afghanistan and Iraq.
Meanwhile, the Obama administration has boosted funding for military family support programs by 3 percent, to $8.8 billion, including money for counseling, child care, youth programs, and career development for spouses, who typically move so often that it is hard for them to develop a profession.
Last Veterans Day, Michelle Obama announced a new military-oriented community service organization called Mission Serve, an offshoot of the public-service group ServiceNation. Mission Serve attempts to link war veterans returning to civilian life to opportunities within their communities. Many veterans and their families report difficulty in making the transition home, and veterans still experience high unemployment rates.
---