Evangelist Franklin Graham won't speak at Pentagon prayer event
Franklin Graham had made remarks about Islam that Muslims and others said were insulting. The Pentagon rescinded his invitation to speak at a May 6 event.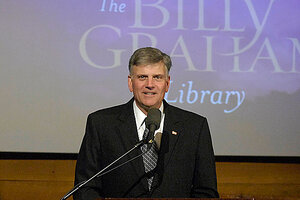 Todd Sumlin/Charlotte Observer/MCT/Newscom
Muslim and military groups are applauding the Army's decision to disinvite evangelist Franklin Graham to a prayer event because of his comments about Islam.
"We applaud this decision as a victory for common sense and good judgment," said Nihad Awad, national executive director of the Council on American-Islamic Relations (CAIR). "Promoting one's own religious beliefs is something to be defended and encouraged, but other faiths should not be attacked or misrepresented in the process."
The Army had invited Mr. Graham, son of the Rev. Billy Graham, to participate in a prayer event at the Pentagon May 6. But a military group, as well as others like CAIR, had protested the decision based on remarks Graham had made in the past about Islam.
He has said that while he likes Muslims, he doesn't like the religion for the way it treats women and doesn't like Islam's "persecution or elimination" of other religions. In the past, he has referred to Islam as "an evil religion."
---