Afghanistan war: surge on cusp of bringing 'real change'
A new Pentagon report says insurgents are increasing their attacks on US-led coalition forces in the Afghanistan war. But the surge is showing signs of promise, it adds.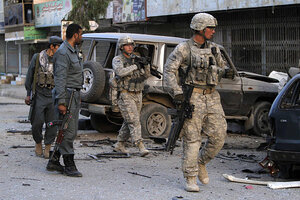 Rahmat Gul/AP
Insurgents in Afghanistan think last year was their most successful year of operations since 2002, according to a new Pentagon report.
That perception stems from a plentiful supply of weapons, including roadside bombs, and money, and also from the narrative in Washington for the last several years that the US was losing the Afghanistan war.
But armed with the confidence that comes from a surge of 100,000 American forces, US officials now believe they are on the cusp of change, and that insurgent perceptions of their own strength will begin to change, too.
"We have the beginnings for the potential for real change," says a senior defense official, who spoke on background to reporters at the Pentagon.
The defense official spoke as the Pentagon released a progress report on Afghanistan that the defense official characterized as a "serious and sober" illustration of the challenges the US faces there.
Six months ago, the Pentagon issued a similar report that showed that security was stable, not declining, but "fragile." Today it appears as if the military is still in wait-and-see mode. The trends are mixed.
Insurgents losing popular support
For example, insurgent groups are losing favor among the Afghan people, says the report. And according to a poll taken last month, 52 percent of Afghans believe insurgents are the greatest source of insecurity. On the other hand, only about 24 percent of the population supports the government of Afghanistan in 121 of the districts that are critical to turning the country.
---