Sec. Gates moves deliberately on 'don't ask, don't tell'
In a letter to Congress, Gates and Joint Chiefs chairman Adm. Mike Mullen say they're sticking to their plan for review. This angers activists and lawmakers pushing for early repeal of 'don't ask, don't tell'.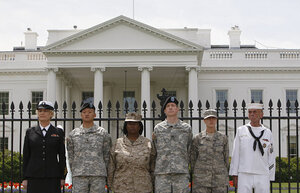 Pablo Martinez Monsivais
Defense Secretary Robert Gates has reiterated his pledge to carefully study how repeal of the controversial "don't ask, don't tell" law would work.
But his letter to members of Congress Friday immediately angered gay rights advocates who fear the administration isn't moving fast enough to repeal the ban on gays and lesbians serving openly in the military.
House Armed Services Committee Chairman Ike Skelton (D), of Missouri, who does not currently support repeal, had sought the assurance from the Pentagon that it would oppose legislative efforts to repeal the law this year.
Some lawmakers on Capitol Hill are pushing for intermediate steps toward repeal, for example, creating a moratorium on discharges under the law. Such efforts concern Democrats like Mr. Skelton who are reluctant or at best on the fence about repeal.
"Our military must be afforded the opportunity to inform us of their concerns, insights and suggestions if we are to carry out this change successfully," Gates and Adm. Mike Mullen, chairman of the Joint Chiefs of Staff, wrote to Skelton.
---