Defense secretary signals he'll reassess Navy, Marine Corps programs
The Marine Corps' amphibious Expeditionary Fighting Vehicle and the Navy's big aircraft carrier fleet are examples of programs ripe for reevaluation, Defense Secretary Robert Gates said Monday.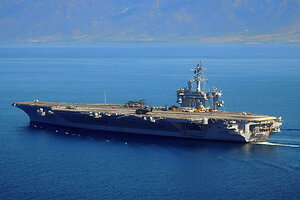 Petty Officer 2nd Class Daniel Barker/US Navy/Handout/Reuters
Defense Secretary Robert Gates has been pushing to change the course of the US military, scrapping expensive programs he sees as marginal and arguing for cheaper, more relevant platforms – and now he has set his sights on the Navy and Marine Corps.
For years Mr. Gates has called out the Air Force for demanding expensive aircraft such as the F-22 Raptor, a $140-million-a-copy stealth fighter that the defense secretary has now essentially discontinued. But in a time of tight budgets, even for the US military, Gates seems intent on spreading the pain. Now, it's the sea services' turn.
At a conference outside Washington hosted by the Navy League, Gates on Monday singled out aircraft carriers and the Marine Corps' Expeditionary Fighting Vehicle as two examples that need Pentagon reevaluation.
The Navy's aircraft carriers, he told the Navy-Marine Corps audience, represent an example of the US military's conventional military might – power that is unmatched by any nation. But he asked whether the US needs to maintain 11 aircraft carriers and their attending ships – known as a carrier strike group – for decades to come.
"Do we really need 11 carrier strike groups for another 30 years when no other counry has one?" the Pentagon chief said. "Any future plans must address these realities." The Ford class of carriers is being built now.
---