Secretary Gates wants 'hard, unsparing look' at military spending
In a hard-hitting speech Saturday, Defense Secretary Robert Gates invoked the legacy of Dwight Eisenhower in limiting military spending to what is absolutely necessary 'and not a penny more.'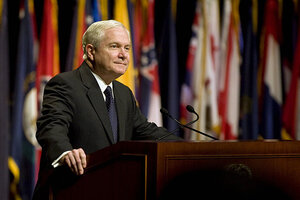 Cherie Cullen/U.S. Department of Defense/AP
Defense Secretary Robert Gates has a clear and pointed message for the US military establishment: Take "a hard, unsparing look" at what you're costing the US taxpayer during difficult economic times, and look for serious belt-tightening measures.
In a speech Saturday at the Eisenhower Library in Abilene, Kansas, Secretary Gates said: "In each instance we must ask: First, is this respectful of the American taxpayer at a time of economic and fiscal duress? And second, is this activity or arrangement the best use of limited dollars, given the pressing needs to take care of our people, win the wars we are in, and invest in the capabilities necessary to deal with the most likely and lethal future threats?"
Gates noted that Dwight Eisenhower – who led the allies to victory in the European theater in World War II, then became president – had a "passionate belief that the U.S. should spend as much as necessary on national defense – and not one penny more."
"And with his peerless credentials and standing, he was uniquely positioned to ask hard questions, make tough choices, and set firm limits," Gates said.
Breaking the 'iron triangle'
Other presidents and defense secretaries have tried to rein in what was seen as unnecessary Pentagon spending, in particular big-ticket items beloved by the so-called "iron triangle" of military services, defense contractors, and their champions in Congress – the "military-industrial complex" Eisenhower famously warned of in his 1961 farewell address to the nation.
---