NATO won't be spared Defense budget ax, commander says
Defense Secretary Robert Gates last week promised to cut the Department of Defense budget. Monday, NATO Commander James Stavridis promised to do the same.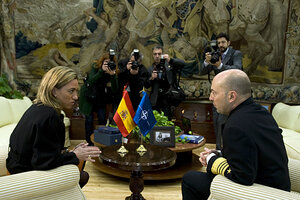 Dani Pozo/AFP/Newscom
As Defense Secretary Robert Gates begins another push for Pentagon cuts, NATO is preparing to follow suit.
Adm. James Stavridis, the supreme allied commander of NATO, said Monday he will look to make "significant" cuts of both flag officers – generals and admirals – as well as staff for the US and NATO allies.
The comment follows a speech by Mr. Gates at the Eisenhower library in Abilene, Kan., May 8, in which the Defense secretary promised significant belt-tightening at the Pentagon – one of the dominant themes of his tenure. In the speech, Gates mentioned the Pentagon's European operations, noting that the US military has cut its forces in Europe by about 40 percent since the 1990s – yet the reduction in generals and admirals has been about half that.
Stavridis took up that point at a breakfast for defense writers in Washington Monday: "There is room to reduce overhead both in terms of flag and general officers and in terms of staff size, both on the US side and on the NATO side."
---
Follow Stories Like This
Get the Monitor stories you care about delivered to your inbox.