Pentagon dials up pressure on North Korea for Cheonan sinking
The Pentagon announced Monday that it will conduct two joint naval exercises with South Korea in response to confirmation that North Korea was responsible for the warship Cheonan sinking.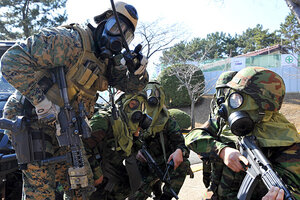 Kim Jae-Hwan/AP
Sometime soon, US and South Korean warships will conduct two joint naval exercises off the Korean peninsula, the Pentagon announced on Monday. The maneuvers are intended as a response to North Korea's sinking of the South Korean corvette Cheonan in March and will focus on antisubmarine warfare and the interdiction of banned weapons shipments, according to Defense Department officials.
"We think that this is an area where, working with the Republic of Korea, we can hone some skills and increase capabilities," said Defense Department spokesman Bryan Whitman.
It is also an area where the US and its South Korean ally likely will tread with caution. When it comes to responding to Pyongyang's provocations, the US needs to appear strong and cautious at the same time, says Victor Cha, senior adviser and Korea Chair at the Center for Strategic and International Studies in Washington.
That's because the North Koreans appear to respect military strength, but are also highly unpredictable. In light of that difficult geopolitical situation, the proposed US-South Korea naval exercises are a reasonable and necessary response, says Mr. Cha.
"You want to respond forcefully enough so that North Korea is deterred from doing it again, but you also don't want to start a war," he says.
---