Is Congress forcing Obama's hand on 'don't ask, don't tell' repeal?
President Obama and Defense Secretary Robert Gates wanted to move forward with a repeal of 'don't ask, don't tell' more slowly. But Congress is pressing for a vote this week.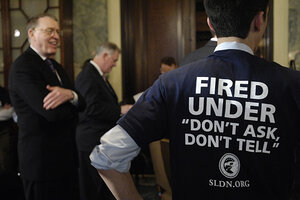 Newscom
As American public support for gays and lesbians has reached record levels, Congress is pressing ahead to vote on a proposal to repeal the military's "don't ask, don't tell" policy, which bans gays and lesbians from openly serving in the military.
Congress may vote as early as Thursday on an amendment that would put a process in place to repeal the controversial "don't ask, don't tell" policy.
The Obama administration and Defense Secretary Robert Gates have both tepidly backed the proposal – although it came sooner that either had probably wanted, says Carl Bon Tempo, a historian at the University at Albany in New York.
"What's clear is that Obama administration wanted to go slow and not deal with this until after the midterm election, [but] their hand has been forced by Democrats in Congress," for whom the legislation would be advantageous in their own districts, says Professor Bon Tempo. "And so they're pushing hard and forcing the administration to move this up on agenda."
Secretary Gates has also indicated he would have preferred to have more time to study the issue before Congress votes.
---