Now that the X-37B space plane is spotted, what is its mission?
Amateur astronomers say they have found the X-37B in an orbit that takes it over Afghanistan and Iraq. A former Air Force missile officer offers up four possible uses for the space plane – and weapon is least likely.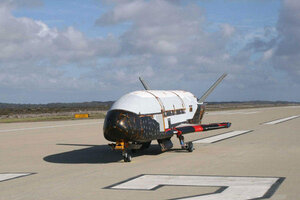 US Air Force/Sipa Press/Newscom/File
Now we know where the X-37B is. Amateur sky-watchers have spotted the Air Force miniature space plane traveling in low-earth orbit at an inclination that takes it over Iraq and Afghanistan, among other nations.
But this big question remains: What the heck is the X-37B doing up there, anyway?
The Air Force isn't saying. It's secret. "The actual on-orbit activities we do classify," said Gary Payton, Air Force Undersecretary for Space Programs, during a conference call with reporters in late April.
The X-37B Orbital Test Vehicle is an unmanned experimental platform that resembles the space shuttle, only smaller. It's a program that began at NASA in 1999 and then moved to the Pentagon in 2004.
On April 22 an Atlas V rocket roared into the sky from Cape Canaveral, Fla., carrying the X-37B on its first orbital test flight. At that moment the reusable craft vanished, as far as the general public was concerned. The Air Force did not say where in space the X-37B was going.
But last week a team of sky-watchers with members who specialize in tracking orbiting objects announced that they've spotted what they are certain is the X-37B in space, about 255 miles up, circling the earth every 90 minutes.
---
Follow Stories Like This
Get the Monitor stories you care about delivered to your inbox.