Air Force X-51A Waverider: faster than Superman
The US Air Force just flew its new X-51A Waverider at five times the speed of sound. It could be used as a hypersonic cruise missile, delivering a warhead to anywhere on earth in an hour.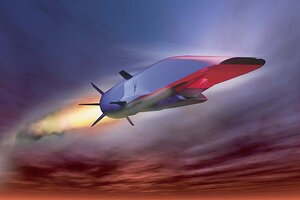 Newscom
Wednesday's flight of the Air Force X-51A Waverider was certainly impressive. The X-51A – a Dustbuster-shaped air vehicle dropped from a B-52 bomber – used scramjet power to accelerate beyond a screaming-fast Mach 5 (five times the speed of sound).
That means Waverider went hypersonic. Its 200-second scramjet burn was the longest ever for that technology. Producing thrust from a scramjet (or supersonic combustion ramjet, if you prefer) is technically so challenging that it has been compared to lighting a match in a hurricane – and keeping it burning.
Well, great. But what's the X-51A for?
The first mission for its technology likely would be use in a weapon. The X-51A could morph into a hypersonic cruise missile by as soon as 2015. That would provide the Air Force a long-sought Prompt Global Strike capability, defined as the ability to target any spot on earth with a conventional warhead within 60 minutes.
A new space vehicle?
Scramjets also hold promise for vehicles capable of taking off like aircraft and then flying into space. This could revolutionize US launch capabilities by 2025.
Unlike rockets, ramjets burn fuel mixed with oxygen from the atmosphere. They aren't burdened with carrying their own combustion-feeding oxidizers. Unlike jet engines, air rams through their combustion chambers at supersonic speeds. That allows them to operate efficiently at much higher speeds.
That's the theory, anyway. Scientists have tinkered with the technology for years. Air Force officials noted that Wednesday's scramjet burn, at 200 seconds, did not go as long as they had planned. An "anomaly" terminated the flight short of its 300-second goal.
---