Soldier arrested in WikiLeaks classified Iraq video case
Army Spc. Bradley Manning has been arrested in connection with the April release of classified footage of a US helicopter mistakenly shooting Iraqi civilians to website WikiLeaks.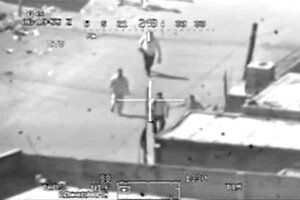 Wikileaks.org/AP
The US Army has arrested Specialist Bradley Manning, a soldier deployed in Iraq with the 10th Mountain Division, on charges that he allegedly released classified information. The military is looking at a possible connection between Spc. Manning and WikiLeaks, an online whistleblower organization which in April published a graphic video of an Apache gunship mistakenly shooting civilians, according to Pentagon spokesman Bryan Whitman.
"The Department of Defense takes the management of classified information very seriously because it affects our national security, the lives of our soldiers, and our operations abroad," said a statement released by the Pentagon.
The Manning case marks the third time during the Obama administration that authorities have arrested a suspected leaker.
---