WikiLeaks Q&A with Daniel Ellsberg, the man behind the Pentagon Papers
Daniel Ellsberg, the man behind the most significant leak in Pentagon history – the 1971 Pentagon Papers – spoke to the Monitor about how important the WikiLeaks documents are and whether WikiLeaks is the Afghanistan war's Pentagon Papers.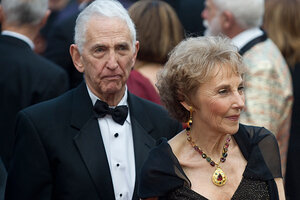 Newscom
Before WikiLeaks, before the Afghanistan war, before the Internet, a defense analyst named Daniel Ellsberg rocked America in 1971 when he leaked to the newspapers of the day a top-secret study of US decisionmaking in Vietnam. The documents came to be known as the "Pentagon Papers."
Some 7,000 pages in all, the Pentagon Papers have long been considered the most important leak in Pentagon history, showing that senior Pentagon and administration officials were misleading Americans about the course of the Vietnam War. They recast perceptions of the war and and charted new legal ground, with President Nixon going to the courts in a failed attempt to try and stop The New York Times from publishing later installments.
Now, as WikiLeaks releases 91,000 classified documents about US military involvement in Afghanistan, the Pentagon Papers are once again entering the American lexicon. Are the WikiLeaks documents the most important Pentagon leak since the Pentagon Papers?
---