Bombing spree doesn't shake Mullen's faith in Iraq security forces
Adm. Mike Mullen, chairman of the Joint Chiefs of Staff, said Wednesday that he has confidence that Iraq security forces can handle any bid by Al Qaeda to reignite sectarian violence.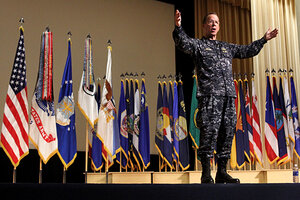 Drew Perine/The News Tribune/AP/file
Despite a wave of attacks by Iraqi insurgents Wednesday morning that killed at least 45 people, America's top military officer, Adm. Mike Mullen, says he remains confident in Iraqi security forces as the US prepares to end its combat mission there.
Speaking with press after a speech to the Executives' Club of Chicago, the chairman of the Joint Chiefs of Staff characterized the attacks as "an effort on the part of Al Qaeda in particular in Iraq to reignite the sectarian violence," but noted that so far, "it hasn't happened."
The attacks came less than a week after the last brigade scheduled to leave moved out of the country – bringing the number of US troops in Iraq down to about 50,000 – the lowest number since the 2003 invasion. Those troops will remain in Iraq until December 2011, but the official combat mission ends on Aug. 31.
The date was originally set with assumption that Iraq would have a new government in place by now. The nation's elections were in March. But negotiations for forming a new government remains deadlocked. Admiral Mullen said that the deadlock has little effect on the US withdrawal.
"Even in this transition we're comfortable that [the Iraqi security forces] can provide for the security," he said.
Afghan deadline helping Taliban?
---