Why Robert Gates made that call to Terry Jones over Quran burning
Obama officials knew direct contact to persuade pastor Terry Jones to call off his planned Quran burning could inspire copycats. But Defense Secretary Robert Gates went forward out of concern for US troops' safety.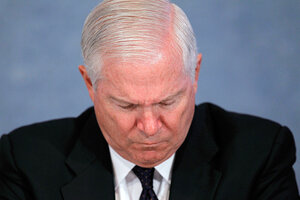 Alex Brandon/AP
Secretary of Defense Robert Gates and other members of the Obama administration spent the better part of Thursday mulling over the possibility that one of them would make a phone call to the pastor of a small Florida church vowing to burn Qurans on the anniversary of the Sept.11 terrorist attacks.
This "unusual measure," said Pentagon spokesman Geoff Morell Thursday, was an attempt to convince the pastor that the Quran burning was "not the right thing to proceed with."
The administration decided the person to make the call would be Defense Secretary Gates.
WATCH VIDEO: Build a 'mosque' near ground zero?
RELATED: 11 countries speaking out against Koran burning in Florida
But such a phone call could create a "slippery slope" in which copycats across the country might demand similar concessions, Mr. Morrell said. However, he added in a briefing Thursday with reporters, "We may now find ourselves in the situation where we believe the risk to our forces outweighs the potential bad precedent or slippery slope that's set by a phone call such as this."
The matter was particularly sensitive for Gates, Morrell said. "We feel particularly exposed here in light of how closely we operate with people of the Muslim faith, and so I think we want to make sure that every measure is taken to try to avoid this potentially inflammatory situation."
---