'Stop loss' back pay for US troops goes unclaimed
US troops involuntarily kept in the military after 9/11 are eligible for special compensation. More than half of the $534 million in 'stop loss' funds has not been claimed – and the deadline looms.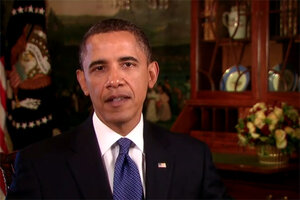 More than half of the money set aside to compensate troops who were involuntarily kept in the military beyond the end of their service contracts during the wars in Iraq and Afghanistan – a practice known as "stop loss" – has yet to be claimed, according to senior US defense officials.
Stop loss was a controversial program used frequently by the Pentagon during the height of the Iraq war. Often called a "back door draft," it allowed the US military to keep soldiers and marines on active duty in war zones. This in turn meant that soldiers often served months beyond the date that they would normally be eligible to leave the military.
Some 186,000 US troops were stop-lossed in the years after the 9/11 terrorist attacks, according to Pentagon officials.
In announcing an end to stop loss last year, Defense Secretary Robert Gates said the practice was tantamount to "breaking faith" with service members.
---