Lady Gaga won't sway Pentagon on 'don't ask don't tell'
Lady Gaga is in Maine Monday at a rally pushing to repeal the military's 'don't ask, don't tell' policy on gays in the military.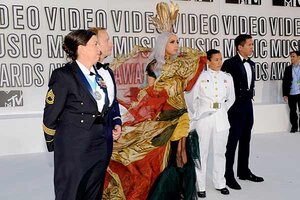 Chris Pizzello/AP
She's the most followed person in the world on Twitter, but Lady Gaga's push to repeal "don't ask, don't tell" during a rally in Maine Monday is likely to have little impact within the halls of the Pentagon.
When asked how carefully US military officials will be following the gathering featuring the rock superstar with a penchant for outrageous outfits occasionally featuring, say, meats, Pentagon spokesman Col. David Lapan says, "We're not."
Organizers of the event had been hoping otherwise. "I think they are watching it very closely," posits Aubrey Sarvis, the executive director of Service Members Legal Defense Network, which coordinated with Lady Gaga to organize the event.
But the attitude is likely to be different on Capitol Hill, where the annual defense authorization bill is up for a vote Tuesday. One of the most controversial elements in it is a provision to repeal the law that bars openly gay troops from serving in the US military.
When the Senate Armed Services Committee (SASC) voted to add the don't ask, don't tell repeal provision to the defense bill last spring, Sen. Susan Collins of Maine was the only Republican to support the measure. She said Friday that she is undecided on her vote on the full defense bill Tuesday. Sen. Olympia Snowe, the other Maine Republican, has said that she, too, is unsure how she will vote.
---