Mixed messages from Obama, Petraeus on Afghanistan pullout
President Obama has called for an Afghanistan exit strategy with no 'wiggle room' and a July 2011 troop withdrawal. General David Petraeus, commander of US forces in Afghanistan, has been less firm on the date.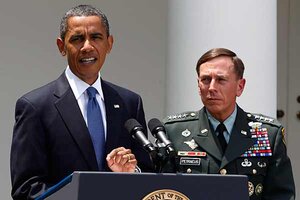 Larry Downing/Reuters
Even as new disclosures reveal that President Obama was leaning hard on the Pentagon to come up with an exit strategy for Afghanistan with no "wiggle room," US troops on the ground are increasingly seeking out just that.
As they make their case, soldiers tend to point to the directives of their commander in Afghanistan, Gen. David Petraeus, rather than their commander-in-chief, on the topic of a July, 2011 deadline that the President set earlier this year for beginning the pullout of US troops from the country.
This deadline was one that, according to investigative reporter Bob Woodward's new book, the president felt compelled to put in place in a classified six-page "terms sheet" – the result of his reported growing frustration at being boxed in by the Pentagon's push for more US troops in Afghanistan. It came, too, on the heels of Vice President Joe Biden's warnings that a large escalation would mean America would be "locked into Vietnam."
"This needs to be a plan about how we're going to hand it off and get out of Afghanistan," Obama is quoted as telling his aides. "It's in our national interest. There can't be any wiggle room."
Ultimately, the president agreed to send a surge of 30,000 more US troops to the country – troops that are all in place as of this month – contingent on a plan to begin pulling some of them out in July, 2011. These troop levels fell short of the upwards of 40,000 more troops for which many senior officials in the Pentagon were lobbying.
---