NATO general: We can hand off some districts to Afghan forces now
Italian Brig. Gen. Claudio Berto says Thursday that the western metropolis of Herat, for one, is 'quite normal,' and Afghan forces could take the lead from NATO there immediately.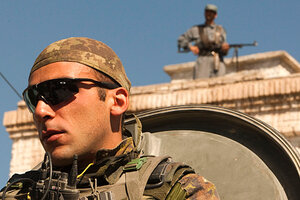 Raheb Homavandi/Reuters
Though Taliban activity is on the rise in regions of western Afghanistan, a top NATO official said Thursday that some key districts near the Iranian border could potentially transition from NATO to Afghan security control "tomorrow."
Giving Afghan soldiers and police lead responsibility for handling security in some less violent areas has become a pressing priority for commanders as the US military decides whether it can potentially begin drawing down or repositioning forces throughout the country in July 2011.
To this end, Italian Brig. Gen. Claudio Berto, the head of the NATO effort in western Afghanistan, said that the city of Herat is "quite normal."
Herat is a bustling border town where "all the goods" in the bazaar come from Iran in a region that is considered an economic engine and one of the wealthiest in the country, Berto added in a briefing with Pentagon reporters Thursday.
---