Afghanistan: Pentagon contractors entwined with 'pro-Taliban' warlords
A Senate investigation finds that Pentagon contractors in Afghanistan are inadvertently helping the Taliban and becoming ensnared in the turf wars of local warlords.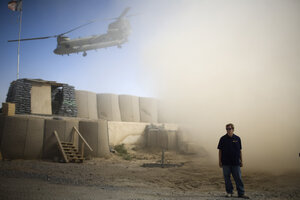 Rodrigo Abd/AP/file
The US military has inadvertently been funneling American taxpayer dollars to Afghan warlords who have been linked to murder, kidnapping, bribery, and other "pro-Taliban, anti-coalition" activities, according to a detailed report released Thursday by the Senate Armed Services Committee.
It is an investigation that at times seems lifted straight out of a Quentin Tarantino film, with local thugs nicknamed "Mr. Pink" and "Mr. White" in command of private militias that are waging bloody turf battles for a greater share of contracting dollars – and who may be using arms and ammunition purchased with these dollars to aid the Taliban.
The report raises questions that go to the heart of the US mission in Afghanistan. There are concerns that guards paid by the US military but controlled by local strongmen could harm US troops or inadvertently place the troops in the middle of proxy wars.
Moreover, investigators argue that private contractors are undermining the US exit strategy in Afghanistan, since Afghan soldiers and police trainees routinely drop out of training to take more lucrative jobs as guards hired by private firms. This jeopardizes the US military's mission to train competent Afghan forces so that US troops can eventually leave the country.
---